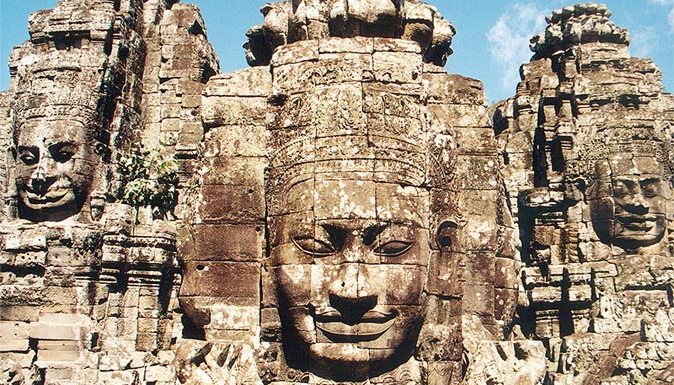 The Bayon Temple represents a holy place in the ancient city of Angkor Thom. It is listed as a World Heritage by Unesco and contains 200 smiling stone faces.
This place was created at the end of the 12th century; however, the finish lines appeared during the ruling of Jayavarman VII. The creators used Buddhist techniques, situated towards east.

The Bayon Temple had 54 towers. However, likely the most famous thing about it the 200 Buddha faces who give a feeling as they are smiling with a happy expression on their face carved out of stone.
These vast stone-heads definitely give off a sensation of peace and calmness. Namely, that's the main reason why people visit this place all the time. They claim that's the feeling they get when they're near here.
Bayon was the state temple of the new capital of Jayavarman, Angkor Thom, filling the space over its center since it represents a symbol of Buddhism in the Khmer empire.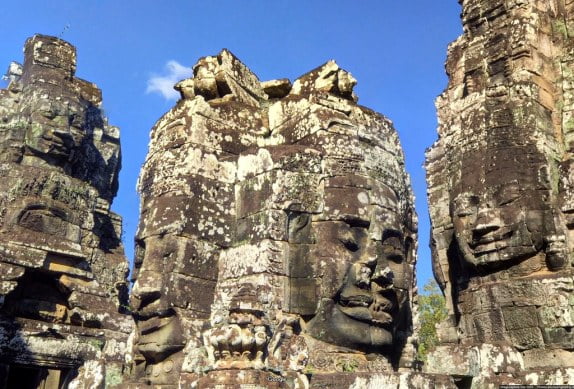 Above all, the Bayon differs from the others temples because of its uniqueness. This was the only original state temple that served as a Mahayana Buddhist altar for Buddha.
After Jayavarman died, the features of the temples were changed in accordance with some religious views of their heirs. They added Hindu and Theravada Buddhist details which weren't part of the first layout.
But, as a matter of fact, the mixture of different styles is what converted Bayon Temple into even more attractive.
Beyond question, the 200 huge stone faces are the most fascinating thing this temple possesses. Almost every tourist that went there remembers them the most.
The faces appear in a group of four and have almost the same design point to a cardinal direction. They express the presence of the person of the face on the stone.
Many experts believe the stone figures portray the face of Avalokitesvara. He was the bodhisattva who personifies the empathy of all Buddhas. This bodhisattva is distinct in different traditions, either appearing as a male or a female.
This theory originates from the unusual features the faces have. In other words, their closed eyes and the mysterious sensation of a smiling face. Correspondingly, experts claim they signify serenity and enlightenment.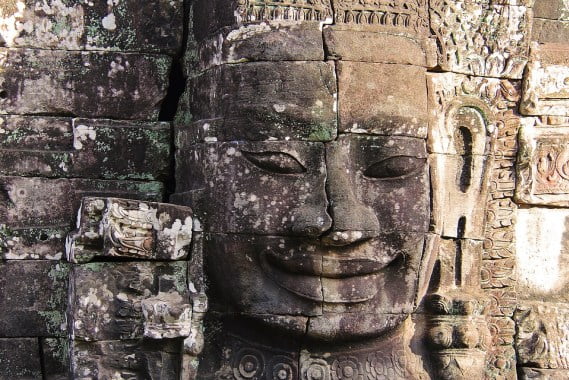 This holy complex has 1.2 kilometers of stone embellishments and a sum of over 11,000 figures. The Japanese Government Team for the Safeguarding of Angkor described it as "the most striking expression of the baroque style of Khmer architecture."