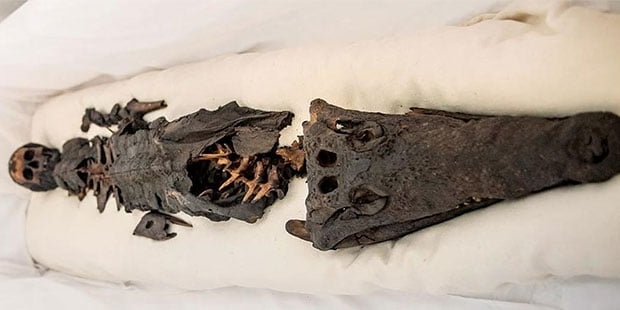 Mysterious mummy with two heads of princess and crocodile unveiled for the first time. Transferred from Egypt to Turkey. The remains of the bodies are a combination of a human and a reptile.
Some observations are that one part of the body belonged to an Ancient Egyptian Princess and the other to a crocodile from the River Nile.
The mummy was kept in Istanbul's Topkapi Palace. After a century Turkish authorities gave a permission for daily newspaper Hurriyet to film it.
Only this mummified body was kept far away from publicity. Other six mummies are important historical figures, like the Sidon King Tabnit. They are exhibited in the Istanbul Archaeology Museum.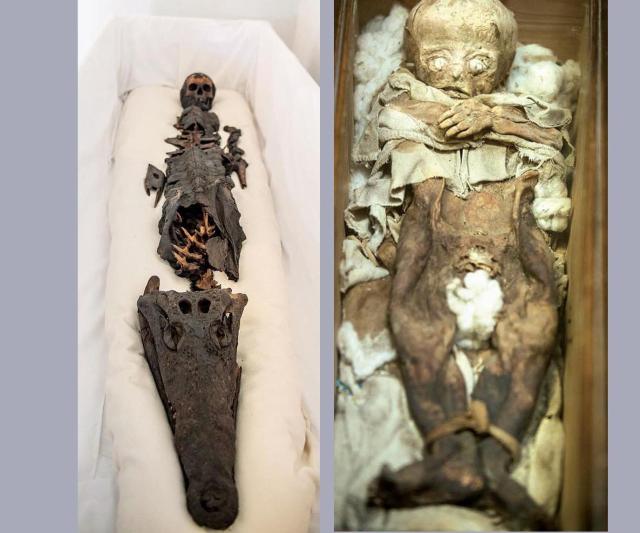 There's a legend saying that the princess was killed by a crocodile in the River Nil. The rulers of the time decided to combine the two bodies with the belief that the princess would be resurrected in the afterlife as a crocodile.
Turkish historian Ibrahim Hakki Konyali wrote about the mummy in 1950s. Behind this history of the mummified body, there is an interesting story.
The occupants of Yildiz Palace were frightened and concerned after hearing loud bangs from the sugar storage of the property. The crocodile head was found on the top of sacks.
The joke was made by the palace servant Haci Salesman, who was keen to take revenge after his requests were refused from the royal candy maker.
Cause the object was disturbing the locals, the servant said he could rid of it if he was given the sweets he required. The palace leaders agreed.
Haci Salesman took the mummies head and put it back on the mummies body.
According to the historian, the strange body of a child and a reptile was hidden with a purpose to stop disturbing the palace residents.